Welcome to the Resources page for the SenNet Consortium! Please use this page as a central hub for data ingestion, data documentation, publications, and research highlights. Whether you are a member of the Consortium, an independent researcher, or a budding scientist, we invite you to explore the senescence resources we have here.
SenNet Publications
View published research by funded components of the SenNet Consortium. Organize by topic, title, citations, or publication date.
300+ Human and Murine Sources
Ingest
Funded awardees may upload data here.
Data
Click for programmatic access to SenNet data and metadata.
Biomarkers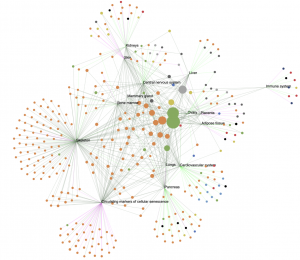 Interactive graph visualization of senescence biomarkers. This network representation of the supplemental data shows each organ node as a text string.
Documentation
Documentation on SenNet Data
Data Benchmarking
SenNet is planning to execute a consortium-wide benchmarking project to enable standardization of detecting cellular senescence and spatial localization of senescence in tissues. The benchmark will compare the performance of spatial transcriptomics and proteomics techniques on the same tissue, and will compare the performance of the same modality on different tissues.